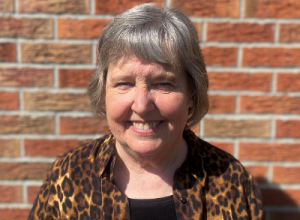 Volunteer Center Director
406.272.8510
---
Pam Sanderson has been with United Way since 1993. In joining the team, Pam brought with her a history of working with non-profits and serving as a Board member and President of other organizations. Pam graduated from MSU Bozeman with a degree in Secondary Education and got involved in volunteer work shortly after teaching and substituting for a few years. Pam's vision in joining United Way was to enlighten the community of United Way's mission, as well as to work with Points of Light to start a Volunteer Center.
Pam's job entails overseeing volunteer engagement and involvement. Pam currently serves on the Volunteer Engagement Council at the United Way Worldwide. 
Pam cherishes her family and is proud of their accomplishments, and she greatly appreciates respect of privacy.
Q&A with Pam
What three words would you use to define yourself?
Curious, empathetic, and principled
If you could send a note to yourself in 2030, what would it say?
Pam, really glad you are still alive.
What the world needs now is....
People to care about and for others.
What's the greatest gift we can give one another?
Respect and understanding