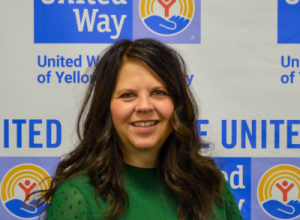 Community Impact Coordinator
406.272.8509
---
Brenda Ludwig joined United Way in 2014. Brenda learned of United Way after meeting the CEO at the time and decided she wanted a career change - one that would benefit her community. Brenda was ready to utilize the skills and experience that she gathered from her previous employment. Brenda's vision joining UWYC was to fulfill United Way's mission and improve Yellowstone County.
Brenda's job at UWYC entails overseeing MT 211 for the southeastern region of the state, as well as managing the database and website. Her literacy work includes overseeing Reach Out and Read, organizing all-inclusive fundraisers, and providing various age-appropriate books for children. 
Brenda is a team-player who is willing to help wherever she is needed, whether that be seeking overall improvement of the community or utilizing available resources to help those in need. Brenda is compassionate and loves to spend time with her family.
Q&A with Brenda
What three words would you use to define yourself?
Hard-working, empathetic, and patient
What is your personal motto?
"Treat others the way you want to be treated."
What is your go-to motivational/pump-up song?
What the world needs now is....
We need less division and to seek to understand the differences in all of us rather than judge and most importantly to treat everyone as we want to be treated.
What is your favorite place on earth?
On a beach by the ocean.
Is there anything else you want to share about yourself?
I feel privileged to be part of an organization that has such a positive impact in our community.