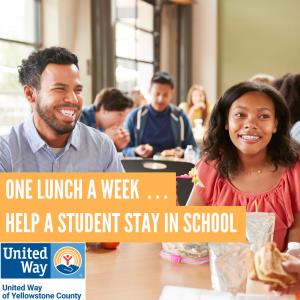 GIVE ONE LUNCHTIME A WEEK...HELP A STUDENT STAY IN SCHOOL.SUCESS MENTORS NEEDED!!!
Serve as a Success Mentor with United Way of Yellowstone County and be a positive role model for a local elementary, middle or high school student.
Success Mentors:
Have lunch with a mentee or meet during study hall on a weekly basis (at the student's school during the school year)
Promote regular, on-time attendance and other habits of student success
Be a consistent, positive adult role model who helps the mentee with goal setting and problem solving skills
Research shows that good attendance (missing no more than 10% of the school year) increases the likelihood that a student will graduate from high school.
CLICK HERE to sign up to become a success mentor.