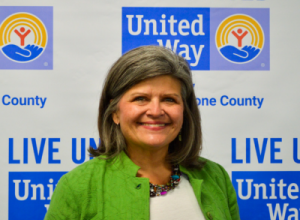 President & CEO
406.272.8501
---
Kim Lewis has been with United Way since July 2020. Kim was attracted to this position because it utilizes her leadership skills and 30 years of experience working with non-profits. Kim's vision entering United Way was to learn more about Yellowstone County, to mirror United Way's mission, to improve the community, and to encourage coexistence through a Diversity, Equity, and Inclusion (DEI) campaign.
Kim's job entails interfacing with the community on behalf of United Way's mission, managing staff and volunteers, working with donors and corporate/community leaders, and finding opportunities for United Way to support Yellowstone County. 
Kim went to college to be a TV producer, and worked in the entertainment industry for 3 years before joining the non-profit sector. Kim is the oldest of three sisters, and was a foster-mom of 8 children over a 10-year period. She loves her husband, Patrick, whom she has been married to for 17 years, her twin daughters and twin nieces, and her two grandchildren. 
Q&A with Kim
What three words would you use to define yourself?
Kind, compassionate, and detail-oriented
What is your personal motto?
"Work hard, play hard, and seize the day."
If you could send a note to yourself in 2030, what would it say?
Dear Kim,
Here are 4 things I still hope you are passionate about:
1. Loving and serving everyone.
2. Being stubbornly hopeful and impatiently optimistic.
3. Practicing what you preach and expecting that from others.
4. Looking for silver linings and learning from your mistakes.
What is your favorite place on earth?
Sitting on a beautiful white-sand beach with turquoise waters listening to Jimmy Buffett tunes and an umbrella drink in hand!
What's the greatest gift we can give one another?
Grace. The world is so quick to judge and expect perfection, sometimes we need to take a step back and recognize that we are all trying our best. I always assume the best intentions of others, and even if they fall short, it is important to give them grace, respect and dignity for their efforts.
Is there anything else you want to share about yourself?
I like to laugh and find joy in all situations. I am a southwest girl at heart, but a Montanan by choice! When I'm not doing something for UWYC or wearing my "pastor's wife" hat, I enjoy wine and live music, hiking, kayaking, and volunteering with Junior League and 100 Strong. My greatest joys are my grandsons. I am passionate about living a toxin-free lifestyle and consider myself a peace, love and social justice ambassador. I am a self-published author of They've Always Been Nice to Me, which is a tribute to my Uncle Randy who is intellectually challenged and has Cerebral Palsy and lives a meaningful life.