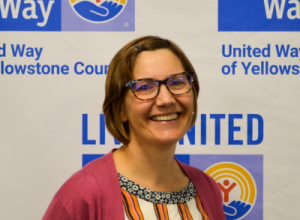 Community Impact Coordinator
406.272.8506
---
Maia Dickerson has been with UWYC since April 2021. Maia had previous knowledge of United Way before she joined the team and decided to utilize her experience working with non-profits and education. Maia's vision joining UWYC was to ensure that United Way's mission was being fulfilled.
Maia's role at United Way entails coordinating programs under school success and readiness initiatives, as well as providing tools for Success Mentoring, supporting Best Beginnings, and coordinating United Way's Bright by Text program for all of Montana. 
Maia is passionate and wants to ensure that the community is stable and safe. Maia and Nick, her partner of 17 years, love spending time outdoors, camping, hiking, and being near water. 
Q&A with Maia
What three words would you use to define yourself?
Dependable, sincere, and cooperative
What is your personal motto?
"Be the same person when no one is looking."
What is your favorite place on earth?
Pyramid Lake, NV
What's the greatest gift we can give one another?
Being present.
What's the greatest gift we can give ourselves?
The ability to let things go.
Is there anything else you want to share about yourself?
I've never met a baked good I didn't like.