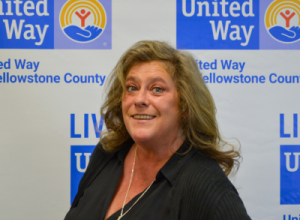 Out-of-School Time Director
406.672.4214
---
Michelle Lamberson joined United Way in September 2021. She always knew about United Way from her previous work with United Way Fund Recipients and decided to utilize her 30 years of experience working in the non-profit industry. Michelle's vision joining UWYC was to make a difference in Yellowstone County and be a part of an organization that focuses on giving to others. 
Michelle's role at United Way entails managing and overseeing the operations and delivery of service for six CARE Academy sites throughout Yellowstone County. This program benefits children's academic, social, and personal development, helping children to stay safe and supported. She is passionate about her work.
Michelle enjoys spending time with Paul, her high school sweetheart and husband of 3 years, her 25-year-old son, Billy, and her yellow lab, Honey. Her hobbies include cooking with her husband, spending time outdoors, gardening, camping, and hanging out at the beach.
Q&A with Michelle
What three words would you use to define yourself?
Optimistic, passionate, and empathetic.
What is your personal motto?
"Do what you love; love what you do."
What is your go-to motivational/pump-up song?
Knee Deep by Zac Brown
If you could send a note to yourself in 2030, what would it say?
"Make time for yourself and give yourself a chance to breathe. Never stop learning, laughing, and loving."
What the world needs now is....
Compassion and understanding. Everyone is going through a period of uncertainty and if we can simply remember that we are here for the purpose of love and connection, we will persevere and thrive. 
What is your favorite place on earth?
Anywhere there are palm trees and a beach with salty ocean breezes.
Is there anything else you want to share about yourself?
I am so happy to be a part of such a wonderful organization and am looking forward to what the future brings! I have lived most of my life in Billings, but love to travel and discover new recipes from around the world.